AN IMPORTANT MESSAGE FROM A TECHNOPHOBE
Monday, May 5, 2014 by Malinda Martin
Hey everyone! Hope you are enjoying a wonderful spring.
I have something important to tell you. It's a confession of sorts. (Sigh) All right, I'll just say it. Hello, my name is Malinda Martin and I'm a technophobe. Yes, I spend hours typing away on my computer, creating love stories for you to read but I'm really deathly afraid and inept at using technology. What does this have to do with anything? I'm concerned that sometimes your communication with me (which is very important to me) gets hidden behind spam and advertisements. I currently have over seven thousand messages on this website from spammers all over the world. Depressing!
So, if you want to communicate with me, and I really hope you do, you can always email me at malindamartinbooks@gmail.com or go to my fan page on facebook. Hope this helps.
Now, to answer a few questions that I have run across. A while I go I posted about a new book entitled The Movie Star and the Mom. I am so excited about this story, especially since the announcement of George Clooney's engagement. It is the story about a widowed mom of four and her unlikely relationship with Hollywood's hottest bachelor. I'm currently looking for representation to publish this book. I'll keep you posted.
Also, I was asked if Julie's brothers from Heartthrob will be getting stories of their own. The answer is yes. I enjoyed writing about these typical overprotective brothers in Heartthrob and look forward to giving them their own love stories and checking in with Julie and Steven.
That's it for now. Thanks so much for your support.
Blessings,
M.M.
---
---
---
Sign up to receive Malinda's monthly newsletter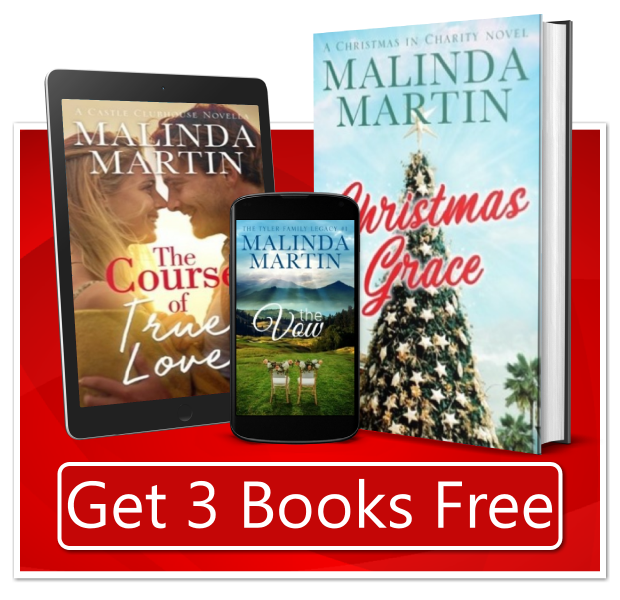 Sweet romance, Christian Fiction, or Christmas story, you pick! Join Malinda's email newsletter today and get your FREE book in whatever form you desire. Along with Malinda's newsletter, you'll get special announcement, free stories in PDF form, and sneak peeks of new stories. Be sure and join today!
---
Previous Posts