"TRUE LOVE" IS COMING!
Tuesday, August 26, 2014 by Malinda Martin
Hey everyone!
Well, summer is over and schedules for the autumn are falling into place. My kids are back at work, college, and high school as memories of vacation still linger. Sigh!
All right, enough about the past. Time to move on to the exciting future!
Here at "Sweet Romance by Malinda Martin" I'm working hard to bring you the best love stories available today and I'm excited to announce the addition of a bimonthly newsletter entitled "True Love." Twice a month I'll be sending out a short, one page story about a couple who persevered and loved to find their happily ever after. You'll feel inspired and encouraged and hopefully entertained as these stories show that true love really happens.
Also, when you subscribe you will be among the first to know of new books coming out. Like the Christmas story that's coming out later this year that will take you back to favorite central Florida town (any guesses?).
Please join me. Simply enter your name and email address on the form at the right. Oh, and for the next two week as a "thank you" for signing up, I'll give you one of my digital books–absolutely free! That's right. Once you sign-up and confirm your subscription, you'll receive an email from me with instructions on how to get your free book. You may choose from the following:
Christmas Grace
The Biggest Part of Me
Heartthrob
The Write One.
But remember, this special give-away will end September 9. So join today and share the news with others! Let's make sweet romance popular again.
As always, I appreciate so much your support, dear reader. Your love and encouragement mean the world to me.
Blessings,
M.M.
---
---
---
Sign up to receive Malinda's monthly newsletter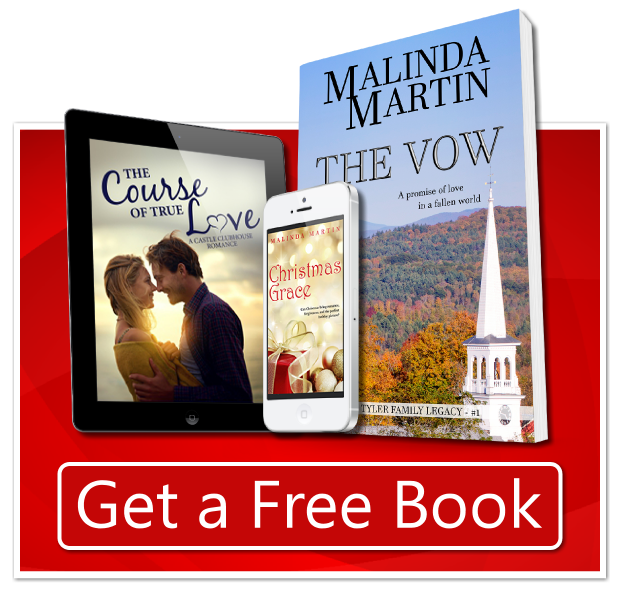 Sweet romance, Christian Fiction, or Christmas story, you pick! Join Malinda's email newsletter today and get your FREE book in whatever form you desire. Along with Malinda's newsletter, you'll get special announcement, free stories in PDF form, and sneak peeks of new stories. Be sure and join today!
---
Previous Posts