TIME FOR A LITTLE "COMFORT AND JOY"
Wednesday, November 5, 2014 by Malinda Martin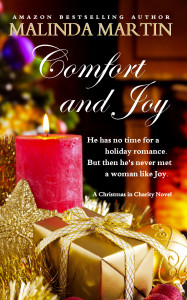 I'm so excited to announce the next book in the "Christmas in Charity" series, Comfort and Joy.
All your favorite characters are back–Mac, Grace, Holly, Big Jed, Little Jed. And it's time for another romance. This time the story involves the quiet new waitress at Hal's place, Joy. She is immediately drawn to a lonely widower, Ross Jackson. But neither is interested in any kind of relationship. Other than friends, of course.
Catch up with old friends. Mac's book Christmas in America is about to be released. The town of Charity is getting ready for the holiday season. And Big Jed has some exciting news, much to Little Jed's annoyance. Available as an ebook on amazon.com (the print book is coming!).
Hope you enjoy Comfort and Joy. Be sure to tell your friends. I'd love to hear what you think. You can always email me at malindamartinbooks@gmail.com or comment to me on Facebook. Favorable reviews at amazon.com is always appreciated!
Blessings, M.M.
---
---