MERRY MARY
Friday, November 6, 2015 by Malinda Martin
Merry Mary Christmas!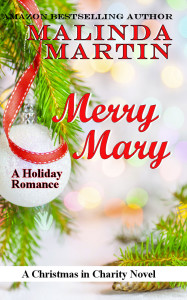 Book three of the Christmas in Charity series is now available at www.amazon.com.
You met Mary Swenson last year. She's the pretty blonde real estate agent in Charity and friend of Grace McCrae. Her holiday season is about to explode and she's going to need the kindness, the caring, the love of all of Charity to help her through.
There's plenty of fun as the folks of Charity prepare for a Christmas Eve Parade and their preparations will have you chuckling. There are surprises for Mac and Grace and Big Jed. It all promises to be a memorable Christmas in Charity.
But is there any other kind?
I hope you'll check out Merry Mary and then post a review on amazon or goodreads. Spread the word that sweet romance lives!!
Blessings,
M.M.
---
---