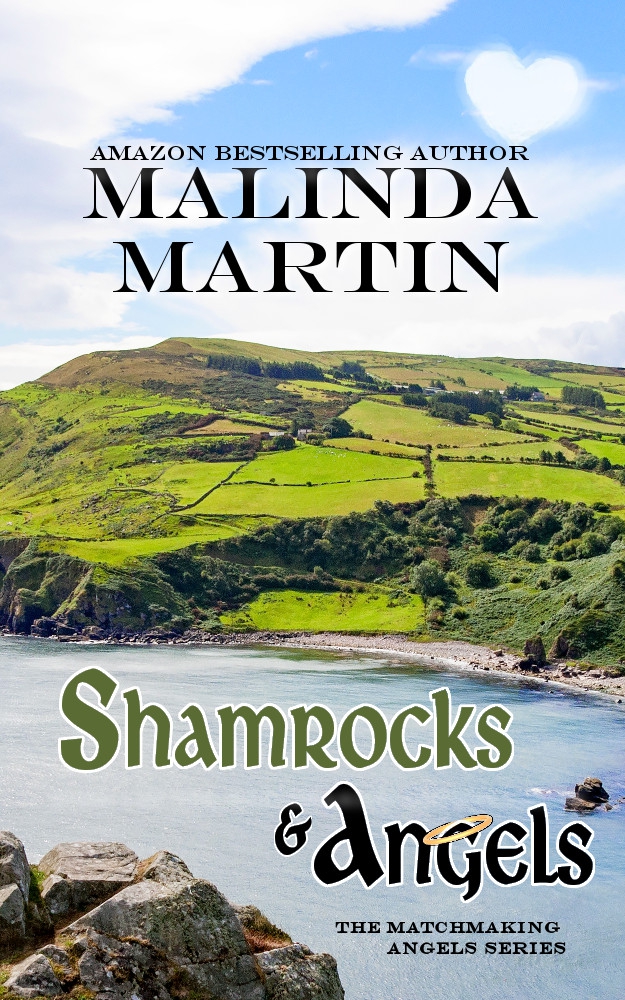 Shamrocks and romance and angels . . . oh my!
I'm so excited to bring to you the first book in a fun, light-hearted sweet romance series. Travel to County Clare, Ireland, where angels Noah and Maddie have been reassigned to help two individuals find true love.
Each book will take place in another beautiful setting with another couple who desperately need the angels' help. Check it out by clicking here. And enjoy an excerpt below:
CHAPTER ONE
Flynn Murphy was in a hurry. Not unusual, as his life as an entrepreneur, owner of several businesses in New York, kept him busy. He had neither the time nor the patience to be any different.
That patience was sorely tested as he drove in rural West Ireland, the place he had avoided for the last dozen years. The place that held his deepest regrets and widest grief.
The one bright spot in the Irish landscape was his grandmother, "Granny Rose." And now she was deathly ill, may even dying before he got the chance to say "thank you."
His stomach churned as he pushed down on the accelerator in his rented Mercedes. He hadn't flown all night to be too late.
As guilt tried to seep back into his spirit over not being there for Granny, he wondered how his own existence could have been different. He'd been given a complete college scholarship at the age of seventeen, taking him across the ocean to America. How could he have known that is would be twelve years later before he'd make it back to his homeland? Of course, to be honest, it had been his choice.
Not that he hadn't provided for Granny's every need. Hadn't he flown her to New York several times to be with him? They'd enjoyed vacations all over Europe. He'd done everything he knew to make her life comfortable.
Except come home.
"Well, I'm coming home now, Granny," he murmured as he navigated his car through the small village of Doonduck. Not a whole lot had changed in the dozen years he'd been gone. No surprise there. The little general store still sat next to the church, next to the local school. The town pub, "The Shauna Clare," stood proud across from the small government building that housed the post office, community meeting hall, and office of the mayor.
Flynn released a heavy sigh. There was comfort in the little village that he hadn't felt in longer than he could remember. Especially the pub. His mouth watered thinking of a Guinness poured by the talented pub owner, Ian O'Brien.He smiled as images of the man who had been a second father to him filtered through his mind. Ian and his daughter had been as much family as Granny Rose.
Before he could change thoughts, he was out of the village and heading for countryside. A chuckle slipped out as he remembered Granny always saying the town was so small that no one ever knew they'd been through it.
The sun was rising and he floored the accelerator, wanting to get to Granny Rose. Nothing was more important at that moment.
The road narrowed until it was hardly one lane surrounded by tall hedgerows. As he came around a sharp corner he saw a flicker of a light and the blue of a bicycle heading through the brush, accompanied by a shriek.
Flynn slammed the brakes and shut off the ignition, throwing open the car door and hurrying for the lump that lay tangled in the shrubbery. The form was wiggling and muttering. He decided to approach with caution.
"I'm terribly sorry. Can I help you?"
An abundance of beautiful wavy auburn hair flung back and forth as the curvaceous form tried to twist out of her predicament of being held captive by the blackthorn bushes. He was momentarily frozen watching the struggle.
"The bloody thorn of the devil himself! And where would one be rushing so at the break of dawn, I'd like to know? Without a care to whoever might be wanting to share the road!"
Flynn knew he should have immediately assisted the woman in her plight, but the lyrical cadence that was the Irish tongue drifted over him like a warm blanket on a frosty morning. He leaned back on his heels, hands in pocket and grinned as she continued muttering curses under her breath.
"Could I be of help, ma'am?"
The woman turned her eyes toward Flynn and he got his first glimpse at the face of the very irritated speaker. It was beautiful, that was evident. More. There was something else there. Sharp, deep cheekbones shone in a diamond shaped face. Her skin was like Irish milk, pink with the effort to free herself. Deep blue eyes, full of temper speared his and suddenly changed. Her struggling stopped as she stared for a brief moment, studying him.
The moment passed as her effort to free herself returned in full force. "Well? Are you going to stand around gawking all day, man, or are you going to be a gentleman and help me out?"
Flynn mentally shook his head at his reaction to the woman and hurried over. "Of course."
He reached in, not exactly knowing where to grab that wouldn't be offensive to the furious woman. His hand went to one leg and pulled, which only seemed to make her body sink deeper. "Not there!"
Going deeper into the brush, his elbow scraped her breast, causing her eyes to sharpen. "My apologies," he mumbled. His hands went around her back but the angle nearly toppled him into the brush with her.
He put a hand on her hip and tried to get purchase, the other hand reaching further around her back. Pulling, he lifted her out and shifted so that she tumbled into him as they both stood toe-to-toe.
And time stood still.
Her blue eyes were hauntingly familiar. Somewhere in the back of his mind he thought they had met, somewhere, in some time. It had to be wishful thinking, as he could never have forgotten such an exquisite woman.
The moment was broken when her eyes changed into bits of hardened ice as she pushed away from him. He hated the change in her demeanor but understood it as there he was, a stranger, staring at her like a fool.
Her eyes grew even colder if that was possible. "For your information, Yank, we don't go about at not even seven in the morning tearing across the countryside." She stomped to her bike and with a strength that amazed him, lifted the cycle out of the bushes, picking up the flowers, small packages, and food items thrown from her basket.
"Again, I apologize. I'm in a rush to get to my grandmother. I'm hoping I'm not too late."
"I imagine Granny Rose has a little more time left in her." The woman checked her bike, pulling pieces of greenery out from between the spokes.
"How did you know—"
"I've just come from her house and she's up and around today. You've got time."
He heaved a huge sigh. "Thank God. I've been flying all night to get here. I was worried I was too late.
"It's a pity she's not seen the likes of you in so long." Her eyes pinned his. "I know who you are. But you needn't be storming down the road, so. Granny Rose hadn't decided she'd be leaving until you came, anyway." The woman smirked. "Thought she'd live forever."
He wasn't sure why but at the moment he felt lower than the dirt the woman stomped off her boots.
"I'll be making my way off now. Go spend some time with your granny." She angled her bike back down the narrow road and before leaving said, "Just remember, Yank. We drive on the left side of the road here. And at a normal speed."
He watched her ride away, thinking her an interesting character, something the country had in abundance. He'd have to remember to ask his grandmother about her.
As he returned to his car he smiled thinking of the woman. It was the first real smile he'd had since arriving.
"Whew, that was close. You were quick to push the girl out of the way when Flynn came barreling down the road," Maddie said watching Flynn drive away.
"Yes, it could have been tragic otherwise."
The two beings followed the retreating car. After a moment Maddie said, "I like Flynn. There's something, I don't know, kind about him."
"He has a kind grandmother. She worked very hard to instill that quality in him but with the exception of the occasional church donation or affirming word to an employee, Flynn keeps it deeply hidden." Noah slanted a look at his companion. "You've keen eyes to see it still abiding in him."
She beamed with happiness at the complement. "You have to be sharp when dealing with those clouds. They are so flighty, wanting to drift off before you finish with them."
Noah chuckled at her fervor.
Sighing, she said, "I just hope I remembered to tell Clara everything. I mean, look at that!" She pointed into the sky. "The colors are already fading. I would have left them up for another half hour of so."
"I must caution you that humans are completely different from clouds." His eyes turned stern as he said, "Especially when attempting to manually move humans."
Maddie bit her bottom lip. "My hand slipped. How did I know that it would push his elbow into her bosom?"
"Great care must be used, Maddie. We only handle when absolutely necessary. Do you understand?"
"Yes, sir."
"What did you think of our two," Noah said, not wanting her to dwell on her mistake.
She scrunched her brows together. "What two." Her mind raced to catch up and when it did, she gasped. "Flynn and that woman he nearly killed? Her? Those are the two who've gone off course? Are you sure?"
"Positive."
"Oh, but Noah, he's a 'Yank," Maddie said giving an accurate impression of the woman. "I could see Flynn being interested. However, the look in his eyes was not one of love. Only a physical interest that humans consistently rush into before thinking over."
Noah smiled. "Very good. Your powers of observation are exactly where they should be. We are needed here." He stopped and sighed. "He needs to face his past, along with learning to love with his heart, before he can truly go forward in life."
"And the woman?"
Noah's eyes deepened with concern. "She holds a hurt that must be dealt with."
He looked squarely at Maddie and added, "And Flynn is the source of it."
Get your copy of Shamrocks & Angels today by clicking here.
Blessings,
M.M.